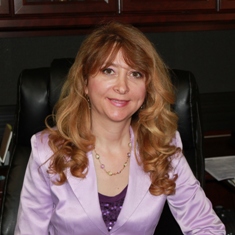 Dr. Vorobchevici's dental philosophy:
"It is my commitment to provide consistent, predictable and outstanding dental care and restore your dental health at an optimal and maintainable level."
Dr. Vorobchevici graduated from UMFIH, being at the top of her class. After that she completed one year of postgraduate training in General Dentistry followed by two year residency in Orthodontics and Pediatric Dentistry. She worded in private practice and also as an assistant professor in the Department of Pediatric Dentistry of the same university until 1999, when she moved with her family to the United States.
In 2001, after taking comprehensive courses of restorative dentistry at UCLA School of Dentistry and Duggan Institute she took her National and State Board Exams and started to practice dentistry in Fresno. Dr. Vorobchevici has pursued extensive postgraduate training in orthodontics in Los Angeles, California.
She worked as an associate for another practice for sometime before opening her own office.
Dr. Vorobchevici has dedicated her professional career to providing patients with outstanding dental care. She is constantly participating in advanced training by taking continued dental education courses with special interest in cosmetic dentistry. She also believes in being involved in the most up to date methods of treatment by incorporating modern technology with her dental treatment. Her knowledge and experience in many fields of dentistry allow her to offer the patients a wide range of procedures and treatment alternatives.
Throughout her career she has been a member in professional associations such as:
-Academy of General Dentistry
-American Dental Association
-California Dental Association
-Fresno Madera Dental Foundation
-Fresno Madera Dental Society
-Fresno Gnathologic Project Study Club
-World Federation of Orthodontists
Dr. Vorobchevici lives in Clovis, CA with her husband and two children.